Student Government Association (SGA)
Hello Islanders!
Welcome to Texas A&M University-Corpus Christi! My name is Chlöe Leal and I'm happy to introduce myself as your elected Student Body President. We at the Student Government Association are thrilled to see you've chosen our University as the one just right for you.
The Student Government Association (SGA) is the governing body that represents students to the administration at Texas A&M University-Corpus Christi. Whether it's a new or returning face, our goal is to represent you and your needs as well as advocate for all students at the Island University.
SGA consists of the executive, legislative, and judicial branches. Each branch has its own powers and responsibilities, but they all are run by students and work together to ensure that every student's experience is the best it can be. There are many ways for Islanders to get involved with SGA. First, you can run for office as a senator to join our legislative branch. You can have an opportunity to represent your fellow students for your respective college while also getting valuable experience with the political process and leadership. You can also exercise your right to vote in these elections for the representative you want to advocate on your behalf. We also have applications for Associate Justices who assist our Chief Justice with Parking appeals and represent student voices on the Code of Conduct Board. These members are a part of our Judicial Branch. If you're a first year student, you can join our First year Council and help create a sense of belonging by planning events for fellow first year students. Lastly, if you want to be a general member to get to know others and see where you can serve, we'd love to have you join us.
If you have any questions, just reach out! SGA is here to help you in any way we can. You can call our office phone at (361) 825-5745, email me at
sga.president@tamucc.edu, or stop on by our office and see us in person in the Student Involvement Center located on the second floor of University Center room 218 M.
All of us at SGA are looking forward to a great school year and we are excited to be serving and getting to know you! We have weekly meetings on Mondays during the fall and spring semesters at 5 pm in the RFEB building, room 107 where all are welcome to see what we do and how we make an impact on campus. If you need more information, please visit the SGA I-Engage page.
Thank you and shakas up!
Chlöe Leal
Student Body President (She/Her)
SGA.President@tamucc.edu
Office: 361-825-5745
University Center, Suite 218 M
Texas A&M University-Corpus Christi
6300 Ocean Drive
Corpus Christi, Tx
78412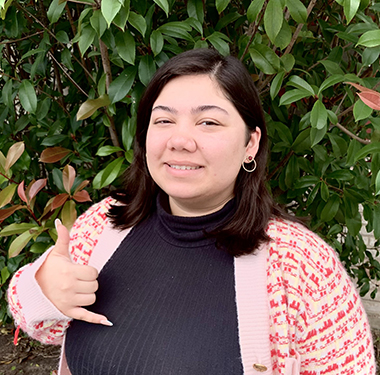 MISSION STATEMENT
The Texas A&M University-Corpus Christi Student Government Association has the dedication and momentum to effectively serve, guide and act on behalf of our student body while promoting the general welfare of our Island Campus.