Upcoming Events
Furgason BRAVO! Series 2021-2022
Friday, October 1st, 2021 7:30 p.m.
RADIOTANGO is the latest program from GRAMMY-winning pianist and composer Pablo Ziegler, who was the pianist for tango master Astor Piazzolla for over a decade. Inspired by the contemporary flavor of Buenos Aires and drawing from Pablo's rich history as the leading exponent of nuevo tango, the program features original compositions from Ziegler that infuse the classical chamber quartet with the invigorating spirit of the tango.
Sunday, February 13th, 2022 3:00 p.m.
Celebrate Valentine's with the Glenn Miller Orchestra!  Just as it was in Glenn's day, the Glenn Miller Orchestra today is still the most sought-after big band in the world.  Returning to the PAC after 2019, the current 18 member ensemble continues to play original and new arrangements of Glenn's music and other music of the era. Always a great show!
U.S. Army Jazz Ambassadors
Tuesday, February 15th, 2022 7:30 p.m.
Known as America's Big Band, the Jazz Ambassadors are the premier touring jazz orchestra of the United States Army. Formed in 1969, this 19-piece ensemble has received critical acclaim throughout the United States and abroad performing America's original art form, jazz.
*Tickets are free, with a limit of four per person and may only be picked up at the PAC box office.
Friday, March 4th, 2022 7:30 p.m.
Mariachi Las Alteñas is an all-female mariachi group that is making waves across the United States. Their mission is to achieve excellence as musicians and performers, and to raise the standards for women in mariachi music.  Hailing from San Antonio, the group has been featured on NBC Nightly News and ABC's Good Morning America for it's groundbreaking musical celebration!
Wednesday, March 23rd, 2022 7:30 p.m.
For over 30 years Boston Brass has set out to establish a one-of-a-kind musical experience. From exciting classical arrangements to burning jazz standards and the best of original brass repertoire, Boston Brass treats audiences to a unique brand of entertainment that captivates all ages.  As heard on the CBS Early Show and NPR's Performance Today, Boston Brass guarantee to dazzle audiences with their playing.
Friday, April 29th, 2022 7:30 p.m.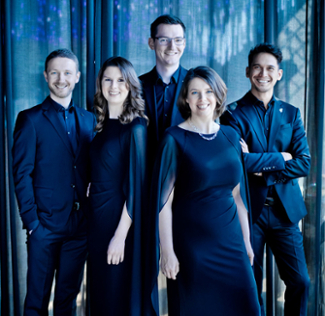 Described as "nothing short of remarkable…they, quite simply, bring whatever they sing to glorious life" by Deseret Morning News, Calmus was founded in 1999 in Germany. The a cappella quintet embodies the rich choral tradition of its hometown of Leipzig, the city so closely associated with Bach and Mendelssohn.  The Corpus Christi Chorale will join with Calmus on part of their program.
Stay up to date on what is happening at the PAC. Join our newsletter!
Subscribe to the Performing Arts Center News of Note