October is National Cyber Security Awareness Month
Each week, we will share helpful tips and resources to level you up against the hackers — at work and at home: 
Remember cybersecurity is Our Shared Responsibility. Report any suspicious activity immediately to the IT Office of Information Security .
2022 Theme: Level up!
Week 1 - Recognizing and reporting phishing (October 3 - 7)
Hackers are hungry for your data! Be on the lookout for phishing attacks through email and text. If you drop your guard and take the bait, it's Game Over.
Download Printer-Friendly Hacker-Man Arcade Poster (PDF)
Week 2 - Using strong passwords and a password manager (October 10 - 14)
A strong password means a strong defense! Never share your password and always keep it secure. If someone steals your password – change it right away!
Download Printer-Friendly Password & Shield Arcade Poster (PDF)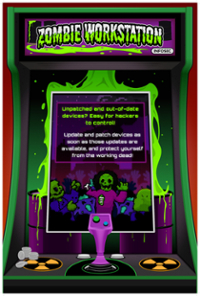 Week 3 - Updating software (October 17 - 21)
Unpatched and out-of-date devices? Easy for hackers to control! Update and patch devices as soon as those updates are available, and protect yourself from the working dead!
Download Printer-Friendly Zombie Workstation Arcade Poster (PDF)
Week 4 - Enabling multi-factor authentication (October 24 - 28)
Defend your data with multi-factor authentication. If the hacker doesn't have all your factors, like a key or a cell phone, they can't break your defense and steal the data!
Download Printer-Friendly Data Defender Arcade Poster (PDF)
Did you know?
Hackers scored big this year, setting new records for data breaches. So be careful or you could be next!
Hacker high scores:
Biggest data breach fine: $877,000,000
Most records exposed in a single breach: 3,000,000,000
Records exposed in one year: 36,000,000,000
Number of spam emails per dat: 22,430,000,000
We need you to help us keep TAMU-CC off the cybercriminals leaderboard. Learn how this month.
Distinguished Speaker Series
Review the weekly themes and speakers for October 2022.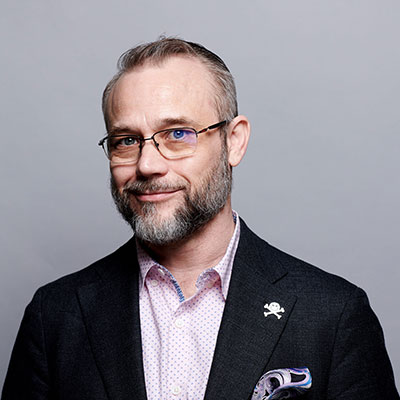 Wednesday, October 5, 10:00 am - 11:00 am
Minister of Magic Jesse Trucks, Splunk
Thursday, October 6, 10:00 am - 11:00 am
Senior Security & Compliance Technical Specialist Scott Schwarze, Microsoft US Education Team
Thursday, October 13, 2:00 pm - 3:00 pm
Special Agent Steven Lupo, FBI
Wednesday, October 19, 10:00 am - 11:00 am
Cybersecurity Advisor George W. Reeves, Region VI, Southeast Texas & New Mexico, Cybersecurity and Infrastructure Security Agency (CISA)
Thursday, October 20, 1:30 pm - 2:30 pm
Nate Dyer, Tenable
Tuesday, October 25, 1:30 pm - 2:30 pm
LTC Robert A. Day, Signal Corps, United States Army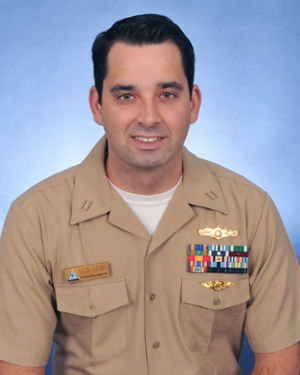 Thursday, October 27, 11:00 am - 12:00 pm
LT Dustin Chapman and ENS Luke Loehr, United States Navy
Thursday, October 27, 2:30 pm - 3:30 pm
LT Christopher Crowder, Navy Hunt Team (NHT) Operations Officer, United States Navy Cyber Defense Operations Command (NCDOC)
Come to our information table!
Throughout the month of October, we will have an information table set up in the Breezeway in front of the Mary and Jeff Bell Library. Talk to us about how to protect yourself from cyber attacks.
Information table schedule
Monday, October 3, 2022, from 10:00 am to 3:00 pm
Tuesday, October 11, 2022, from 10:00 am to 3:00 pm
Wednesday, October 19, 2022, from 10:00 am to 3:00 pm
Thursday, October 27, 2022, from 10:00 am to 3:00 pm
Cybersecurity Costume Contest at Break in the Day
Get your game face on at the Staff Council's Break in the Day, on October 31, at the University Center. To celebrate cybersecurity awareness month, the participant with the best cybersecurity-themed costume will win a special prize from DoIT.
Shred those unwanted hard drives
Every Friday in October, from 9:00 am to 4:00 pm, you can bring your unwanted hard drives, diskettes, tapes, and other electronic media to be shredded by DoIT's drive shredder. Come by the Office of Information Security in Corpus Christi Hall, Room 203, to watch your unwanted media get pulverized.