Izz-Fest
Concert and Foodtruck Festival featuring Dayglow
Texas A&M University-Corpus Christi will be hosting the second annual Izz-Fest, a Concert and Foodtruck Festival! This year Izz-Fest will feature Dayglow. Wristbands go on sale March 6th at 8:00am, see below for event details as well as wristband pricing and pickup information. 
Event Date: Saturday, April 29th, 2023
Wristband Pricing: 
Student wristbands: FREE* 
Faculty and Staff wristbands: $20
Guest wristbands: $20- Students may purchase guest wristbands. Guest wristbands must be picked up by the student placing the order with the student Sanddollar$ ID.
Alumni wristbands: $20- Purchase Alumni Tickets Here

Alumni tickets must be picked up at the Woo Sung Lee Alumni Welcome Center

Future Islanders: Future Islanders, click here to reserve your ticket! You can pick up your ticket at the gate, bring high school student ID and A# when you come!
Community wristbands: IzzFest is a closed campus event and wristbands are only available to students, student guests, faculty/staff, and alumni. 
*While supplies last, student wristbands will be free until 04/28/2023 at 5:00 p.m. All wristbands at the gate will be $20.
Wristband Purchasing and Pickup Information
To place an order for your Izz-Fest Concert and Foodtruck Festival wristband please visit University Center 318. Wristbands are non refundable and non exchangeable. Wristbands will not be replaced if lost or stolen. 
About Dayglow
Dayglow is the stage name of American indie pop artist and songwriter Sloan Struble. 
Dayglow gained popularity in 2018 with the release of his debut single, "Can I Call You Tonight?", which went viral on TikTok. The song quickly amassed millions of streams on various music streaming platforms, and Dayglow soon became one of the most talked-about emerging artists in the indie pop scene.
In 2019, Dayglow released his debut album, "Fuzzybrain," which was well-received by critics and fans alike. The album features a mix of upbeat and introspective tracks, with themes ranging from heartbreak and anxiety to self-discovery and personal growth. The success of "Fuzzybrain" led to Dayglow embarking on a tour across the United States, Europe, and Asia.
In 2021, Dayglow released his second album, "Harmony House," which features a more polished and upbeat sound compared to his debut. The album explores themes of love, friendship, and the ups and downs of life, and has received critical acclaim. Dayglow continues to gain popularity, with his music resonating with a wide audience of young listeners around the world.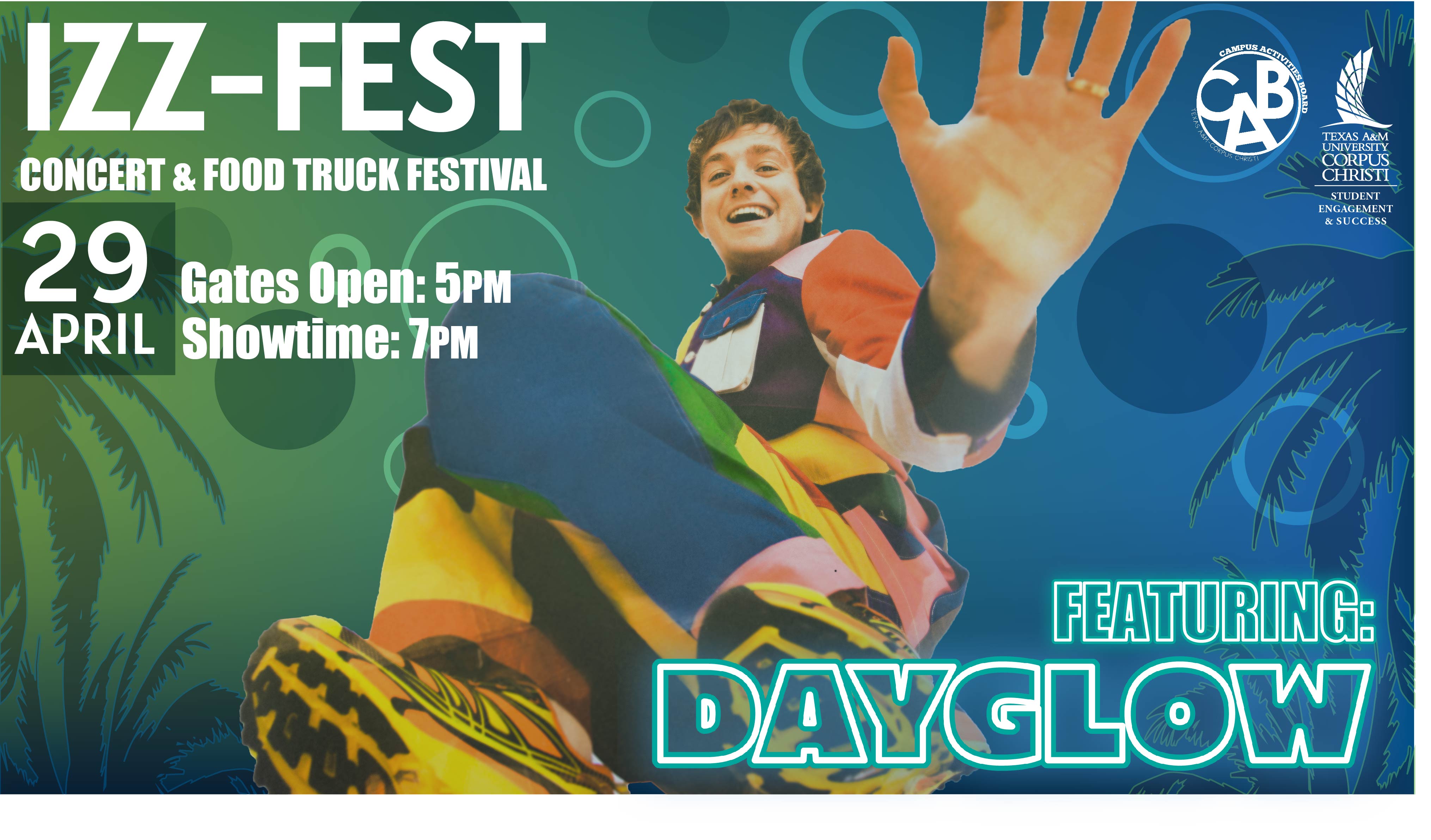 Izz-Fest Additional Information
Thank you to our sponsors!