Disinfectant and Sterilization Methods
Disinfectant and Sterilization Methods
Antisepsis - A process involving the destruction or inhibition of micro-organisms in living tissue thereby limiting or preventing the harmful effects of infection.
Antiseptic - Typically an antiseptic is a chemical agent that is applied to living tissue to kill microbes. Note that not all disinfectants are antiseptics because an antiseptic additionally must not be so harsh that it damages living tissue. Antiseptics are less toxic than disinfectants used on inanimate objects. Due to the lower toxicity, antiseptics can be less active in the destruction of normal and any pathogenic flora present.
Autoclave - An autoclave is a high-pressure device used to allow the application of moist heat above the normal-atmosphere boiling point of water.
Biocidal - Active substances and preparations which serve to repel, render harmless or destroy chemically or biologically harmful organisms.
Biocide - Substance or chemical that kills biological organisms.
Decontamination - The killing of organisms or removal of contamination after use, with no quantitative implication, generally referring to procedures for making items safe before disposal.
Disinfectant - A germicide that inactivates virtually all recognized pathogenic microorganisms but not necessarily all microbial forms. They may not be effective against bacterial spores.
Disinfection - A procedure of treatment that eliminates many or all pathogenic microorganisms with the exception of bacterial spores.
Germicide - An agent that destroys microorganisms, particularly pathogenic microorganisms.
Pathogenic - A microbe or other organism that causes disease.
Sanitization - The process of reducing microbial contamination to an acceptable "safe" level. The process of cleaning objects without necessarily going through sterilization.
Steam Sterilization - Autoclave, the process of sterilization by the use of heated steam under pressure to kill vegetative microorganisms and directly exposed spores. Common temperature and pressure for being effective is 121°C (250°F) at 15 psi (pounds per square inch) over pressure for 15 minutes. Special cases may require a variation of the steam temperature and pressure used.
Sterilization - The complete elimination or destruction of all forms of life by a chemical or physical means. This is an absolute not a relative term.
IBC FAQ: Disinfectants
Cleaning agent – chemical used in combination with water to clean a surface or product. As a side effect, microbes are reduced: ideally removal of 90-99%.
Disinfectant - chemicals used to inhibit or prevent the growth of microbes on inanimate objects: ideally killing of 99,999%.
Bactericide - kills bacteria.
Fungicide - kills fungi.
Virucide — kills viruses (enveloped/lipophilic are typically easier to kill than nonenveloped viruses).
Sporicide — kills spores (fungi and bacteria).
Biocide — kills living organisms.
Bacteriostat — inhibits the growth of bacteria.
Detergent — contains free ions (leaves film on surface).
Anionic Detergent — (soaps) have free negative ions that produce curd when combined with calcium and magnesium in hard water.
Cationic Detergent — Quaternary ammonium contains positively charged ions which remain suspended in solution.
Yes, if the following factors are considered:
Type and level of microbial contamination
Concentration of active ingredient
Duration of contact between disinfectant and item to be disinfected
pH
Temperature
Humidity
Presence of organic matter or soil load
The interplay of these factors will determine the degree of success in accomplishing either disinfection or sterilization. In all situations, review the manufacturer's recommendations for correct formulation and use. Do not attempt to use a chemical disinfectant for a purpose it was not designed for.
Federal law requires all applicable label instructions on EPA-registered products to be followed (e.g., use-dilution, shelf life, storage, material compatibility, safe use, and disposal).
Chemical disinfectant groups consist of: Aldehydes, Halogen-Based Biocides, Quaternary Ammonium Compounds, Phenolics, Acids/Alkalis, Heavy Metals, Alcohols, and Antiseptics.
Aldehydes

Includes Formaldehydes, Paraformaldehydes and Glutaraldehyde
Most of these products are moderately expensive
Good material compatibility

Halogen-Based Biocides

Chlorine Compounds (must be made fresh)

Effective against fungi, bacteria, and algae but not effective against spores
pH of water used for dilution should be between 6 and 8 to be effective
Surface must be clean use
Low in cost but requires frequent applications
Can decolourise or bleach surfaces
Effective at low concentrations

Iodophors (Bleach and iodophors should be made up in cold water to prevent breakdown of the disinfectant)

Bactericidal, sporicidal, viricidal, and fungicidal
Can stain fabric
Effective at low concentrations for disinfecting objects
Low in cost but requires frequent applications

Quaternary Ammonium Compounds

Includes Zephirin, CDQ, A-3
Effective against Gram + and Gram - bacteria, and enveloped viruses
Not effective against non-enveloped viruses, fungi, and bacterial spores
Area to be disinfected must be cleaned and rinsed free of soap
Low in cost

Phenolics

Includes O-phenophenoate-based Compounds
Effective against bacteria (especially gram-positive bacteria) and enveloped viruses
Not effective against nonenveloped viruses and spores
Low to moderate cost

Acids/Alkalis
Heavy Metals

CAUTION: Consult with Environmental Health and Safety prior to using heavy metals – many must be disposed as hazardous waste

Alcohols

Effective against Gram+ and Gram– bacteria, and enveloped viruses
Not effective against bacterial spores and nonenveloped viruses
Excellent when used at 70-95 percent concentration for disinfecting hands
Low in cost and widely available

Antiseptics

Chlorhexidine

Less effective against bactericidal, viricidal, and fungicidal agents than other disinfectants
Cleaning is recommended prior to use
Must remain in contact with the surface for at least 5 minutes
Low in cost but requires frequent applications
Some activity in the presence of organic matter
Effective at low concentrations for disinfecting objects
Nontoxic

Peroxides

Used to clean wounds
Activity is greatest against anaerobic bacteria
Not viricidal
Can be damaging to tissues
Useful for cleaning surgical sites after closure
Moderately corrosive and limited toxicity
Ineffective in presence of organic matter
Poor to limited residual activity
Not effective against bacterial or fungal spores
More valuable as a cleansing and deodorizing agent
Moderate in cost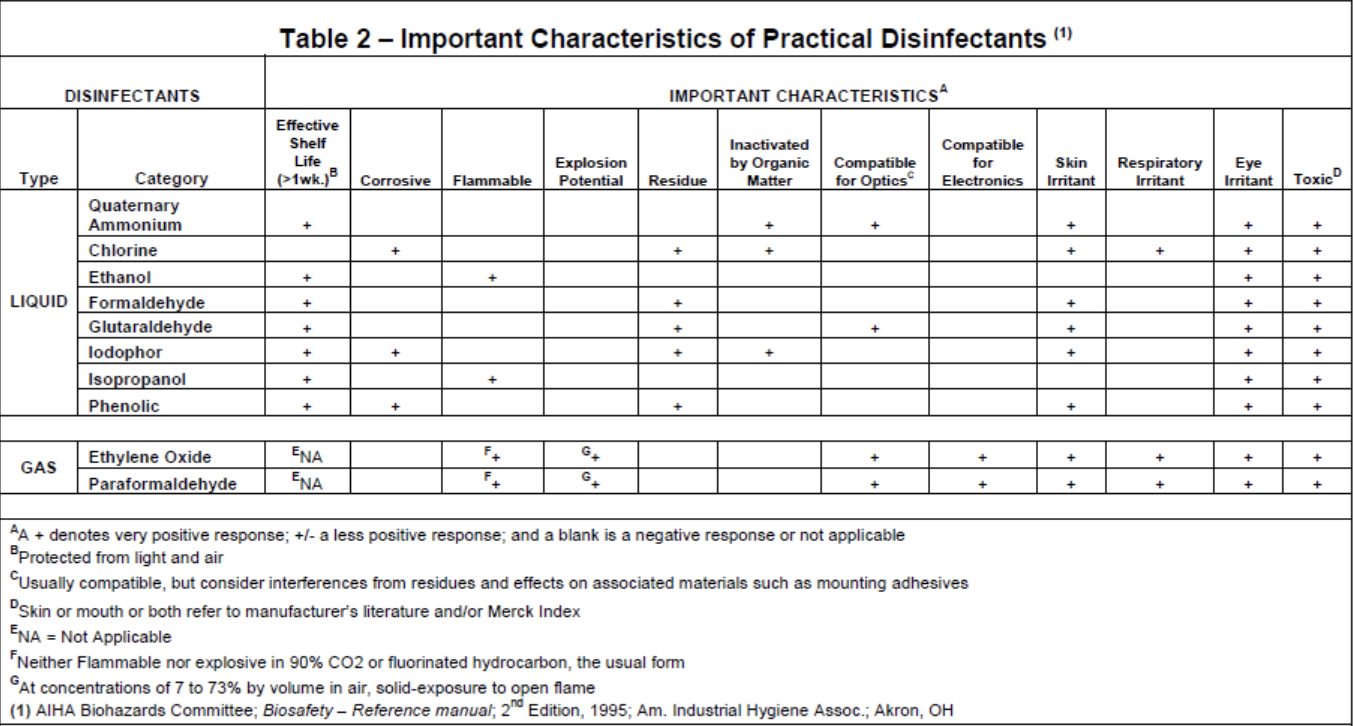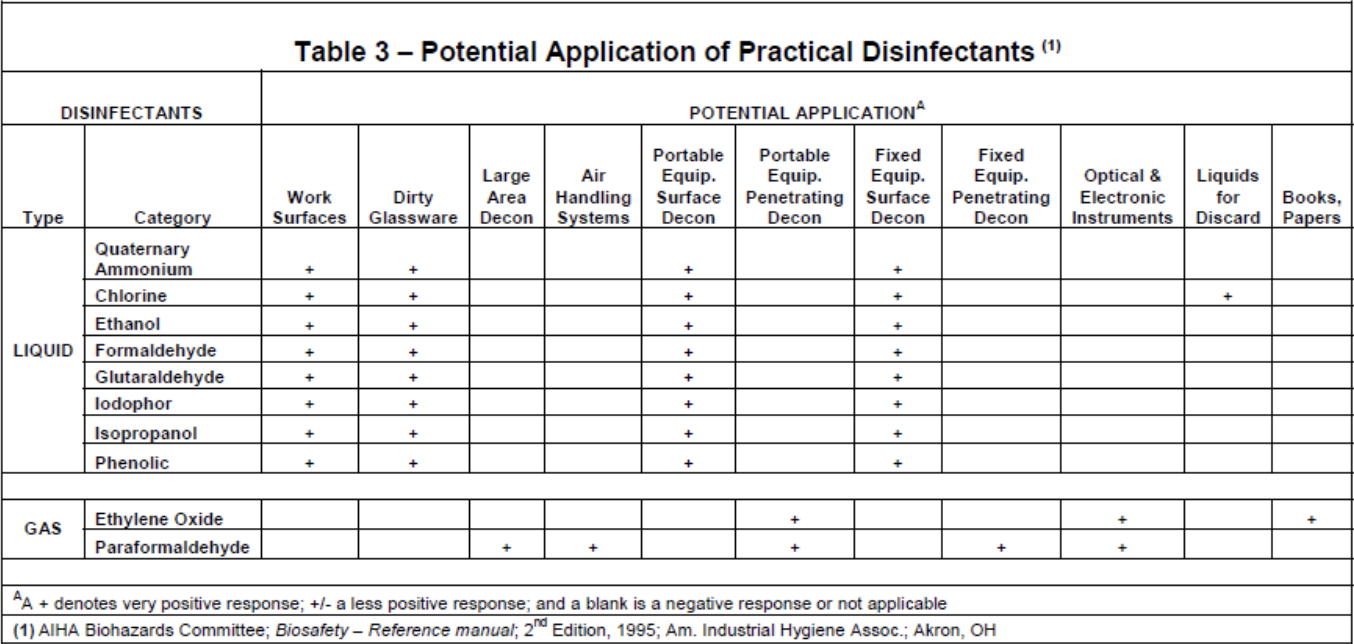 Disinfectant effectiveness depends on many factors:
Type of contaminating microorganism
Degree of contamination – effects time required for disinfection and amount of chemical required
Amount of protein-containing material present
Activity in organic matter and other compounds such as soaps
Type of chemical
Concentration and quantity of chemical
Contact time and temperature
Residual activity and effects on fabric and metal
Application temperature, pH and interactions with other compounds must be considered
Toxicity to the environment and relative safety to humans that may be exposed
Cost
For Hands
Alcohol solutions or gels are typically used on hands. Water solutions are recommended. The usual application time for hygienic disinfection is 30 seconds, for preoperative disinfection at least 3 minutes.

Examples:

Skinman soft (Ecolab)
Spitacid (Ecolab)
Sanitas gel hand sanitizer (Monos)
For Skin (preoperative purposes)
Alcohol solutions are best for skin. The usual application time is 15 seconds before blood taking and at least 1 minute (better longer) before puncture of sterile body areas (joints at least 3 minutes).

Examples:

Skinsept F (Ecolab)
Skinsept G (Ecolab) (colored)
Aldehydes and oxygen producing agents are the strongest disinfectants for surfaces.
Examples:

Incidin plus (Ecolab) (containing glucoprotamin)
Incidin aktiv (Ecolab) (containing oxygen producing agents)
Incidin rapid (Ecolab) (containing aldehydes)
Manually
The application time must be adhered to and, after that, the instrument must be rinsed with water (best of all de-salted water). They must be changed at least daily, better more often. Aldehydes and oxygen producing agents are the strongest disinfectants for instruments.

Examples:

Sekusept aktiv (Ecolab) (containing oxygen producing agents)
Sekusept Extra N (Ecolab) (containing aldehydes)
Sekusept Forte S (Ecolab) (containing formaldehyde)
Washer Disinfectants
Recommendation of the washer disinfector company should be followed.
IBC FAQ: Sterilization
Always consult with the Autoclave Manufacturer and/or Operators Manual for proper temperature, pressure, and time.
Only autoclaves that have been registered with Environmental Health and Safety may be used for the disinfection of pathogenic or "suspect" infectious materials.
You must contact Environmental Health & Safety if you want to use an autoclave that has not previously been registered, assigned a number, and has not had a spore test performed within 90 days and maintenance service performed within 6 months.
EH&S must be notified if any EH&S registered autoclave has been removed from service or does not pass either the spore test or maintenance service. A sign must be posted on the autoclave to note "Autoclave Out Of Service". Do not resume using autoclave until it has been successfully repaired to meet all manufacturers' requirements for effective disinfection. Please inform EH&S when there are changes in the autoclaves and/or their uses.
Autoclaving at a temperature of 121ºC (250ºF), at 15 to 20 psi is one of the most convenient and effective means of sterilization available.
Care must be taken to ensure that the steam can circulate around articles in order to provide even heat distribution.
There should be no void spaces in the load that could insulate against the steam – this condition could prevent the transference of heat to the vessels resulting in no sterilization of the contents.
In dry loads small amounts of water should be included inside the autoclave bag to ensure sufficient moisture content within the load to allow for heat transference and distribution. Autoclave tape can be used for routine runs where glassware or sterile media are prepared before use.
Sterilization Chart

Sterilization Type

Indicators

Relevant Facts and Info.

Steam Autoclave

Chemical: Color Change Indicators

Chemical indicators change colors after being exposed for a few minutes to 121ºC (250ºF)
Should be positioned near the center and toward the bottom front of the autoclave
Not designed to prove organisms have died during decontamination – mainly used to assess operating temperature

Steam Autoclave

Chemical: Tape Indicators

Adhesive, heat-sensitive, chemical indicator markings
Commonly used marking: diagonal stripes and/or the word "sterile"
Not designed to prove organisms have died during decontamination – mainly used to assess operating temperature

Steam Autoclave

Biological: Dry Heat

Ovens operating at 160° – 170°C for 2-4 hours are efficient for sterilizing glassware or non-porous heat conductive materials
Incineration is very effective for final sterilization and disposal
Care must be exercised when flaming "charged" items

Steam Autoclave

Biological: Radiation

Ultraviolet radiation (U.V.) is used to control airborne microorganisms, environmental surface decontamination, and in biological safety cabinets
U.V. is limited due to poor penetrating power, susceptibility to air movement, and requirement for long contact time
Eyes and skin should not be exposed directly

Steam Autoclave

Biological: Vapors and Gases

Ethylene Oxide (ETO) has wide use as an alkyl acting agent with biocide activity, including spores and viruses
ETO is toxic, mutagenic and a suspected carcinogen. It is highly flammable and needs an inerting agent when used in a sterilizer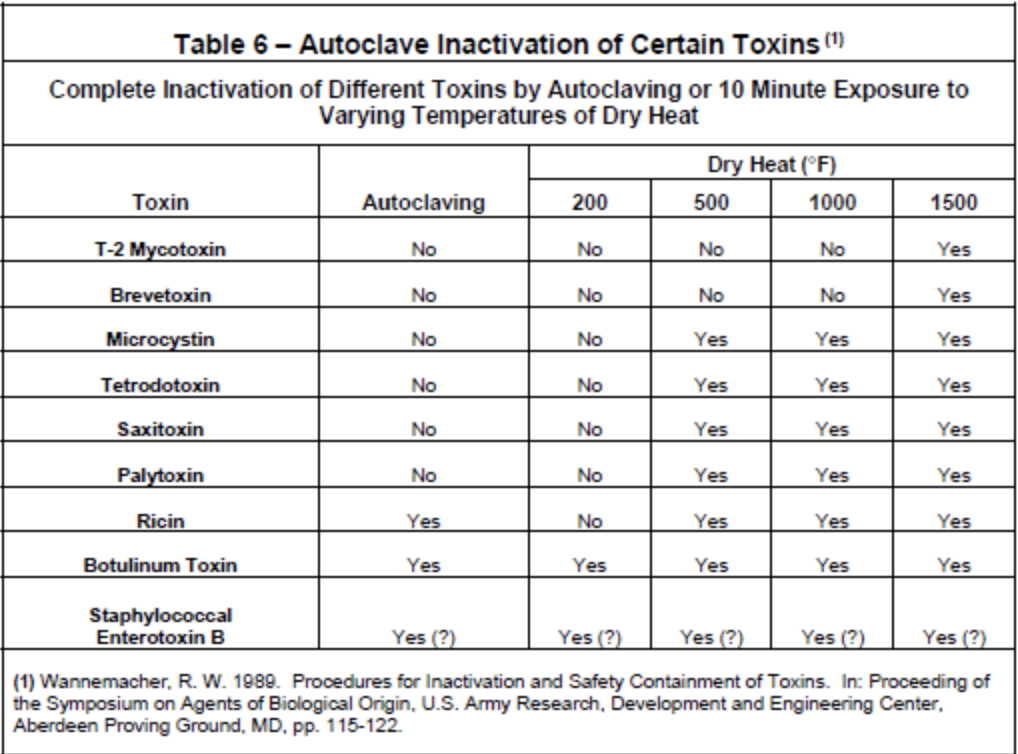 IBC FAQ: Useful Dilutions of Wescodyne and Common Household Bleach