Blackboard Login and Base Navigation Now Updated
MEMORANDUM 
TO: Islander Faculty
SUBJECT: Blackboard Login and Base Navigation Now Updated
TAMU-CC has updated the Blackboard login page and incorporated the new Base Navigation. The new navigation has a sleek, modern look and feel, provides consistency across all devices, and will save you time with simpler workflows and easier access to important information. Your course content, menu, and navigation inside your courses has not changed.
While the look of the login page has been updated, the functionality remains the same. Click or tap the "Login to Blackboard Learn" button and complete the DUO authentication to access your courses. 
Once you have logged in to Blackboard, click on the "Courses" area of the navigation menu. Your current courses will be shown by default. You can use the filters on the page to navigate between terms.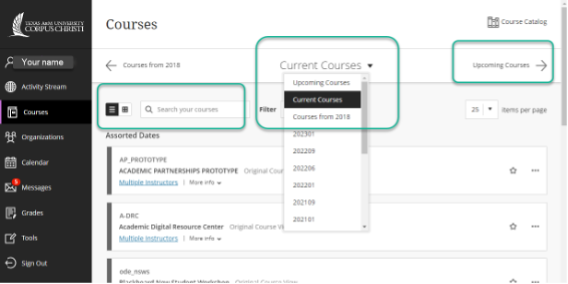 We highly recommend reviewing the video and text resources below to prepare for the new experience.
If you have questions or concerns, please contact the IT Service Desk at 361.825.2692 or 866.353.2491, or create a ticket on serviceportal.tamucc.edu.