Crystal Garcia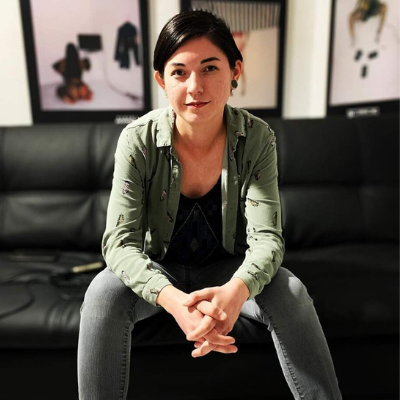 Windward Editors are pleased to highlight work from one of our local contributors--and dear friends--Crystal Garcia. A Corpus Christi native and recent graduate, Crystal and her brother Rudy have gathered a following with their successful podcast, Revolve One; now showcasing over 100 episodes! Crystal is a welcomed, necessary voice in our local community: from her wonderful podcast interviews, to her own creative works, which we are delighted to showcase.
Crystal's work ricochets between beautifully-painted streams of thought, to poignant, creative dazzles that invite readers into an imaginative world of personal, poetic brilliancies.
Crystal Garcia is featured Vol. 18 of The Windward Review!
Diving Into Infinity
From being a child
fascinated with letters
becoming companions--
words always painted
such a vividly clear picture.
Growing into adolescence
only meant
my hunger for words
became insatiable.
I could keep my gaze
glued to a page;
no need for eyes to strain.
Going from libraries
to frequenting bookstores,
it was always the feel of books
that perpetually enticed me.
Whether it had
an embellished cover
or merely a title,
the innate curiosity
of my mind was piqued
as I yearned for stories.
Never will I regret
the days I spent with my head
between paper pages.
It's been years
so I suppose
I'm all grown-up!
Perhaps I didn't think
when I was younger
just how many stories
were within those stories…
I knew to
"read between the lines"
even then
yet I realize now--
stories perpetuate stories
& becoming a writer
gives you the sense
of being
endless.
New Moon Ruminations
Let it begin--
again.
Back
at
the start.
Or was that
just the end?
Either way,
it is dark
so let us
drink
the darkness
in.
Inside we are
feeling outside
of ourselves.
Outside we
try hiding
our own
unraveling.
The shadows
is where we
go to face
ourselves--
find our
SELF again.
Tonight
I surrender
myself to
my spirit.
My soul
is tired
of always
having to shrink
within the confines
of this skin.
It took all
the darkness
I could endure
to spark
my internal
flame within.
This is how
we shine
so bright.
We transmute
this darkness
into
dazzling light.