Word on the Island, April 2023
Looking and Moving Forward
Many people describe me as a joyful realist who finds reasons to hope. As a sociologist, I understand that who I am is the result of the spaces and places that I have had to navigate in a world that is sometimes hostile and unkind. Similarly, I know you too must find your footing when strong winds seek to destabilize you and what you are aiming to accomplish. In such times, we both must remember that who we are (and what we do) is not determined by what others think about us or how others treat us.
As a comprehensive, Hispanic-serving, high research activity university, our purpose is clear: we deliver an empowering, life-enhancing education to students that choose us. Our students' success defines who we are and what we do. We do not simply help students learn disciplinary content and earn degrees; we help them build and live lives of meaning and significance for themselves, their families, and their communities.
The success of our students is embedded in our DNA. Every day, we dedicate our time and energy to the development, fulfillment, and success of learners at TAMU-CC. As the winds continue to blow and the world continues to grow more complex, we must find innovative ways to work together to continue nurturing student learning and success. We must model adaptive resilience for our students.
Let us look and move forward to serve the students that choose us. Distractions and haters will always exist, but we must not allow them to alter our focus on delivering the promise of higher education. Together, we can demonstrate our unwavering commitment to transforming the lives of students, families, and communities.
Clarenda
---
Announcements
Faculty Senate is currently accepting applications for the Regents Professor Award of the Texas A&M University System. Applications should be submitted electronically to faculty.senate@tamucc.edu by 12:00 p.m. on Friday, May 12. All applications will be evaluated by the Awards, Bylaws, and Elections Committee, and a ranked list of candidates will be forwarded to the Office of the Provost for further review. For details about the award, please click here.
---
If your students are in need of academic support, tutoring and learning services are available until the week prior to finals. You can also provide feedback to students using Starfish alerts at any time. Instructions on how to raise an alert for an individual student are available here. For questions, please email starfish@tamucc.edu.
---
The College of Education and Human Development's Master of Science in Athletic Training has received a 10-year reaccreditation from the Commission on Accreditation of Athletic Training Education. The program began its accreditation in 2008 as an undergraduate program and transitioned to the graduate level in 2019. The first cohort of masters students was accepted in 2020. The reaccreditation comes after an extensive self-study, follow-up rejoinder reports, and a 3-day site visit. A 10-year reaccreditation is the maximum length a program can receive.
---
The Student and Exchange Visitor Program of the U.S. Department of Homeland Security has reviewed and approved four new post-baccalaureate and post-secondary non-degree programs at TAMU-CC. The University is now permitted to recruit and admit international students in these four areas: Computer Science, Clinical Laboratory Science, Geospatial Systems Engineering, and Psychology.
---
The Mary & Jeff Bell Library has bird photography exhibits available for viewing in April and May. "Birds Across Continents" by Catherine Rudowsky is currently on display through April 28. "Birds from My Living Room Window and Other Places" by Javier Villarreal is on display until May 5. For more information, contact jennifer.anderson@tamucc.edu or 361.825.3321.
---
The play "Life Sucks" by Aaron Posner is live on stage in the Wilson Theatre, located in the Center for the Arts. The play is a reimagining of the work of Anton Chekhov and runs April 18-22. Tickets are available here. 
---
As part of the Distinguished Speaker series, Simon Tam will speak in UC Anchor Ballroom on April 19 at 4:00 p.m. Hosted by the Office of Diversity, Equity, Inclusion, and Belonging, the presentation will offer storytelling and live music as Tam shares his experience of starting an Asian American dance rock band called The Slants, the related Supreme Court trademark case, and the meaning of identity and freedom of speech.
---
Dr. Richard M. Mizelle Jr. of University of Houston will present a forum titled "Katrina's Long Shadow: Illness in the Aftermath of Disorder" on Thursday, April 20 in UC Legacy at 6:30 p.m. Dr. Mizelle's research focuses on the history of race and politics and how gender, ethnicity, and identity connect in medicine. 
---
TAMU-CC's 4th annual C.L.I.M.B. Conference is happening April 25-27. The theme is "Creating Change: Continuous Learning and the Culture of Excellence," and the keynote speaker will be Libby Averyt, President and CEO of United Way of the Coastal Bend. Click here for more information or to register.
---
TAMU-CC's 23rd annual Author's Day on April 27 will feature Edward Vidaurre from 6:30 to 7:30 p.m. in the Mary and Jeff Bell Library. Vidaurre is an award-winning poet who has authored 8 poetry collections, served as the Poet Laureate of McAllen, TX, and been inducted into the Texas Institute of letters. His writings have been published in numerous publications including The New York Times and The Texas Observer.
---
The 2023 Islander Awards will be held on April 28 from 1:30 to 3:00 p.m. in UC Anchor Ballroom. Faculty and staff will be recognized for excellence and service milestones.
---
May is Asian Pacific Islander Desi American (APIDA) Heritage Month. For more information and upcoming campus events, including Mochi making, click here. 
---
On May 4 the College of Liberal Arts and Academic Affairs will present a Lunch and Learn on "Scheduling & Learning Communities" at 12:00 p.m. in UC Bayview 320. Attendees will learn how Learning Communities are created and how they serve students, especially during their first year. The discussion will also address how each unit can support Learning Communities and First-Year Seminar. RSVP here.
---
The Urgency in Education Conference will be held Saturday, May 13, from 10:00 a.m. to 4:00 p.m. at Center for Instruction. This event is open to researchers in all fields and is hosted by the TAMU-CC Student Chapter of the Association for Supervision & Curriculum Development. Click here for more information or to register.
---
Final grades for the Spring semester are due May 16 at 12:00 noon. Visit Faculty Self-Service to enter grades. For questions, please contact the Office of the University Registrar at registrar@tamucc.edu or 361.825.7245.
---
Beginning August 14, 2023, the Texas Higher Education Coordinating Board has approved changing the name of the College of Engineering to the College of Engineering and Computer Science. At that time, the Department of Computing Sciences will become the Department of Computer Science. 
---
Beginning Fall 2023, TAMU-CC will offer new graduate programs and undergraduate programs: Master of Science in Data Science, Master of Science in Engineering, Bachelor of Science in Early Childhood Education, and Bachelor of Science in Special Education. New minors and certificates will also be available: Black Studies Minor, English as a Second Language Minor, Photography Minor, Gulf Scholars Program Certificate, Literacy Coaching Certificate, and Social Media Certificate.
---
SUGGESTED RESOURCES
We suggest the following resources to help you stay informed and maximize your Islander Impact:
---
Graduation Activities
The Office of International Education will host the International Student Stole Ceremony in UC Oso Room 221 on May 15 from 11:00 a.m. to 1:00 p.m. For more information, please contact international@tamucc.edu. 
---
COLLEGE HOODING AND RECOGNITION EVENTS
Friday, May 19 

| Event | Time | Location |
| --- | --- | --- |
| COB Graduate Reception |  6:00 PM | OCNR First Floor Lobby |
| COEHD Hooding Ceremony |  6:30 PM | UC Anchor Ballroom |
| COE Hooding & Cording Ceremony |  12:00 PM | UC Lone Star Ballroom |
| CLA Hooding Ceremony |  4:00 PM | UC Lone Star Ballroom |
| CONHS Recognition Ceremony |  2:00 PM | UC Anchor Ballroom |
| COS Hooding & Cording Ceremony  |  10:00 AM | UC Anchor Ballroom |
| Islander Battalion Officer Commissioning  |  9:00 AM | UC Lone Star Ballroom |
---
News
TAMU-CC doctoral candidates swept two categories at the 18th annual TAMU Pathways Student Research Symposium – the Engineering and Computer Science Division and the Mathematics and Physical Sciences Division. The Island University is deeply committed to student success, and the results of that commitment were evident in the research presented by TAMU-CC's largest ever cohort of Pathways participants. Forty-six undergraduate and graduate students traveled to Texas A&M University at Galveston to compete, and 12 students garnered awards. 
---
The new immersive reality lab (IRL) located in the Mary & Jeff Bell Library is now officially open, and faculty, staff, and students are invited to explore, play, and even walk the plank! A soft opening began on April 1 with the lab open four hours per day. The IRL celebrated its grand opening April 17 to kick off World Creativity and Innovation Week. Faculty attended a reception to explore how extended reality (XR) can be used to realize instructional or research strategies that have thus far not been possible or feasible due to real-world constraints. The event also showcased the Library's I-Create and One-Button Studios. For more information about the IRL, contact abel.cantu@tamucc.edu or joseph.doan@tamucc.edu. 
---
The Department of Counseling and Educational Psychology's Theta Alpha Mu chapter of Chi Sigma Iota (a national counseling honor society) participated in the American Foundation for Suicide Prevention's Out of the Darkness Campus Walk program in March 2023. The event attracted over 140 participants and raised upwards of $5,000 for suicide awareness initiatives. Local news station KRIS 6 covered the event, which featured booths from local mental health providers to offer support to those in need.
Image credit: KRIS 6 
---
TAMU-CC is launching the Greater Texas Foundation Islander Scholars Program thanks to a $1.5 million grant from the Greater Texas Foundation. Beginning in Fall 2023, the program will accept up to 40 students who will be assigned to a Student Success Network, receive need-based scholarships, and come together in a living-learning community that provides service opportunities, academic and social support, and a cohort of peers to learn and grow with. Click here to learn more.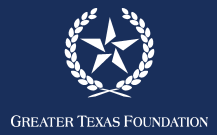 ---
The Mary & Jeff Bell Library now features a colorful and unique interactive mural located in the back stairwell. The mural is a collaboration between the Library and the TAMU-CC Graphic Design Student Organization and was unveiled on March 21. It depicts Islander traditions – such as the class ring, campus cats, and the Islander lei – along with underwater scenes that feature sharks, scuba divers, and aquatic life. Visitors can access custom filters on Instagram by scanning the QR code at the mural entrance. Check out the beautiful photo gallery, and visit the Library to see the mural in person.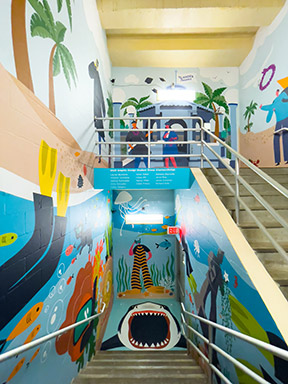 ---
The College of Education and Human Development's Islanders Helping the Early Acceleration of Readers Together (IHEART) program has expanded to Corpus Christi Independent School District. In the program, Islander pre-service teachers work with groups of first-grade students for 10 weeks to improve literacy. The IHEART team is also being inducted into the TAMUS Chancellor's Academy of Teacher Excellence. More information about IHEART is available here.
---
The OER stipend program, administered by the Mary & Jeff Bell with support from CARES Act funding, had a successful first year. A subscription to Pressbooks and numerous faculty stipends were funded by $65,000 in CARES Act resources. Please contact oer@tamucc.edu for more information about OER resources and opportunities.
44 faculty participated
13 faculty received professional development
7 faculty wrote a review of an open textbook
1 new textbook was created using Pressbooks
17 classes eliminated textbooks
$91,900 represents the estimated student savings per semester
---
A Video Games Studies course, housed in the College of Liberal Arts, was recently featured on KRIS 6 news. The course is based on the 2013 game "The Last of Us," which has recently been adapted to a TV show by HBO. The course includes a gameplay lab and explores why video games can be a great source of adaptations for movies and television.
Image credit: KRIS 6
---
To promote digital transformation at TAMU-CC, Digital Learning and Academic Innovations (DLAI) launched the Online Course Redesign Program funded by the Texas Higher Education Coordination Board (THECB). The program is being piloted by the Department of Psychology and Sociology, and 26 faculty members submitted proposals to redesign their online courses. Eighteen courses were selected for program participation, with priority given to core classes and courses with high enrollment numbers to promote quality digital experiences with a focus on continuous improvement strategies, intentional design, digital transformation, and student-centered instruction. 
With the support of DLAI Instructional Designers, participants are currently working on Phase I of the program – designing or redesigning a course using a backward design planning framework. The completed course frameworks will be published with a Creative Commons license applied to allow for adoption and/or adaptation in the THECB Open Education Resources (OERTX) Repository.
---
CONTACT US
Email academicaffairs@tamucc.edu
View the Academic Affairs calendar
Visit the Academic Affairs announcement archive
Submit feedback, events, newsletter ideas, and more using our online form