TAMU-CC Hosts Inaugural Islander Family Weekend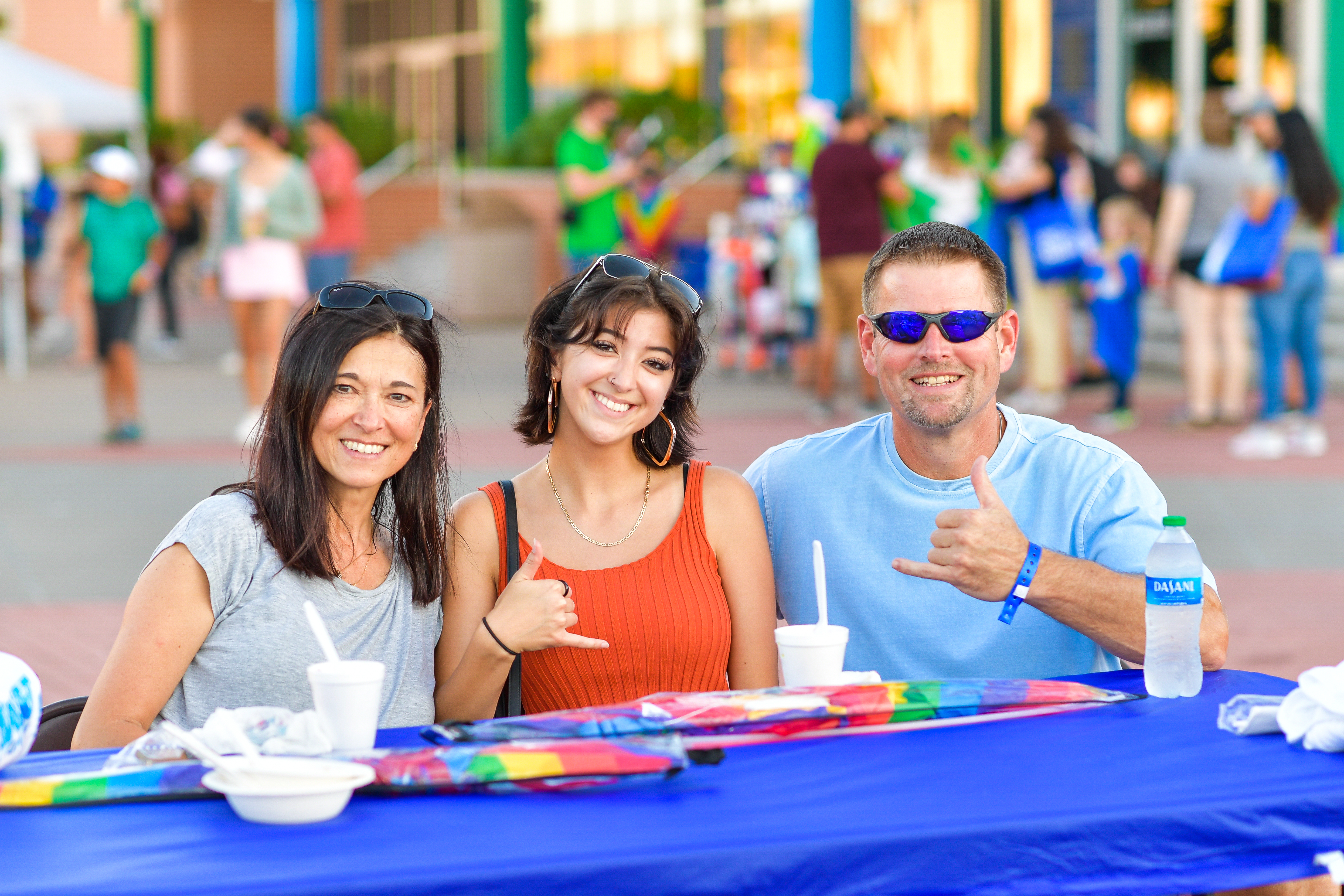 CORPUS CHRISTI, Texas – The Island University welcomed more than 400 families from near and far during the Inaugural Islander Family Weekend, Oct. 8-9, which celebrated students and their loved ones as members of the Islander family.
"On behalf of the entire campus, I would like to express our gratitude for the opportunity to spend time with the families, extended families, and guests of our students here on the Island," Dr. Kelly M. Miller, Texas A&M University-Corpus Christi President and CEO said. "Administration, faculty, staff, students, and their families all work together for the success of each Islander student, and we are proud they have chosen A&M-Corpus Christi to pursue their dreams."
During the two-day event, Islander families were invited to take part in a celebration of university spirit and traditions, immersing themselves in the Islander experience. Families enjoyed campus tours, a student film showcase, a 5K fun run and walk, a president's brunch, an Islanders softball showcase, and more. A laser lights show, sponsored by CITGO, wowed crowds on Friday night. Total headcount for Family Weekend surpassed 1,400 individuals.
Among those in attendance was first-year Islander and biology major, Coy Gillum '25. Hailing from La Grange, Texas, Gillum says the weekend presented the perfect chance to showcase what college life is like for a new Islander.
"When I came on my first tour of campus, I knew this university was the perfect fit, and now my family gets to see that too," Gillum said. "I never thought I'd have the community I have being here; it really is a second family for me."
Shanna Gillum, Coy's mother, says she was grateful to be welcomed with open arms to the Islander family and couldn't wait to return to campus in the future.
"I wasn't able to attend college, so for me, this experience is amazing," she said. "From the moment you walked through the doors, you were treated like family; this event truly shows parents the overwhelming support our children are getting and the community that is there for them."
Ashley Holmes '25, a first-year Islander majoring in environmental science, said the event gave her family a chance to re-connect while partaking in events like Wind Jam – which featured kite flying, a petting zoo, and tasty treats.
"I haven't seen my mom in so long, so being able to spend time together here on campus was great," said Holmes, who calls North Carolina home. "It's taken a lot of getting used to, to be so far from home, but I'm still so excited to keep growing not only as a student, but an Islander too." 
Nicole Warren, Holmes' mother, says the weekend brought her a sense of relief knowing her daughter is well taken care of.
"As a parent, it's important that my daughter has a strong community behind her," she said. "It's her first time away from home, but even now, through this weekend, I can see she's grown and is becoming more independent. I know the university has played a major part in that growth."
The event, more than two years in the making, was organized by a committee led by Margaret Dechant, TAMU-CC Associate Vice President for School and Community Relations, and was made possible thanks to a collaborative effort from every campus division, including more than 160 campus volunteers.
"You could truly feel the Islander Spirit as the entire campus community as well as our campus partners, happily came together to welcome our students and their families, the Islander Way – with open hearts and open arms," Dechant said.  
Community partners included Visit Corpus Christi, Whataburger, The Texas State Aquarium, CITGO, the Corpus Christi Ice Rays, and the USS Lexington.
Stay up-to-date on the latest news for Islander parents and families at https://www.tamucc.edu/parents-and-families/index.php.