Word on the Island, February 2023
Welcome Message
Welcome to the first issue of the Academic Affairs Newsletter! In response to your feedback and interest in being better connected, we are launching this newsletter as a complement to our usual channels of communication (e.g., Department Chairs' Council, Faculty Senate) to share updates about what is happening within Academic Affairs. We look forward to hearing your comments on the inaugural issue and providing suggestions for the next newsletter at academicaffairs@tamucc.edu.
In alignment with the new University Strategic Plan, The Islander Impact 2030, Academic Affairs will maintain our focus on student success, academic excellence, faculty and staff development, and community engagement. We have a solid foundation that allows us to innovate so that we can join our students in making a difference in the Coastal Bend and beyond. Together, we can demonstrate how transformative a Hispanic-Serving, R2, regional comprehensive university in South Texas can be for everyone it touches.
I look forward to connecting with you,
Clarenda
---
Announcements
The 2023 Symposium for Student Innovation, Research, and Creative Activities will be held Friday, April 21.
---
Dr. Mamta Yadav, Professional Assistant Professor in the Computing Sciences department, will give a seminar on how AI tools such as ChatGPT affect education. The event will be held in March 3 in UC Legacy from 12:00-1:30 p.m.
---
Academic Affairs now has a calendar of events of interest to the Academic Affairs community. We also have a contact form where you can submit events for the calendar, feedback, and items to be considered for inclusion in the newsletter.
---
Academic Affairs Community Conversation
March 22 at 10 a.m.
Beginning this semester, Academic Affairs will host Community Conversations with the Academic Affairs leadership team. The theme of the Conversations will be Disruptive Innovation in Higher Education. The inaugural Conversation will focus on the relationship between equity and excellence in teaching and learning, with the Boyer 2030 Commission report, "The Equity-Excellence Imperative," serving as a framework for the discussion. The event will be held March 22 at 10:00 a.m. in UC Anchor D. Please bring your questions and comments and join in the dialogue.
---
Textbook adoptions will occur March 6-12. All faculty are required to submit an adoption for each course. Log in to S.A.I.L. to connect to the Campus Store portal.
---
Midterm grades are due March 22 at 5:00 p.m. Visit Faculty Self-Service to enter grades beginning March 8. The University procedure that governs midterm grades can be found here, and a tutorial for entering midterm grades is located here. For questions, please contact the Office of the University registrar at 361.825.7245 or registrar@tamucc.edu.
---
The 2023 Navigate Summer Bridge Program will be held during the Summer II semester. The 5-week program is designed to help scholars who are ready to begin their college journey and would like a confidence boost. Participating students reside on campus and receive support specifically designed to help them transition to the college environment. Space is limited to 80 students. Email summerbridgeacademy@tamucc.edu or click here for more information.
---
The Academic Affairs Spring 2023 Welcome Video is live on YouTube. In this brief video, the Provost discusses Academic Affairs goals, the disruptions we are all working together to overcome, and ways we can make a positive difference today. She also celebrates recent successes throughout Academic Affairs.
---
March is Women's History Month! Visit TAMU-CC's Women's History Month website to learn more and see the schedule of events.
---
The Academic Testing Center is now officially a Pearson VUE Authorized Testing Center, offering over 4,000 certification titles that will benefit TAMU-CC students and the Coastal Bend community. In addition, the Testing Center is an ETS Certified Test Site, offering the TOEFL and GRE, as well as an Aviation Administration Airman Certificate Testing site, offering the Unmanned Aircraft exam.
---
SUGGESTED RESOURCES
Take your skills and knowledge to the next level! We suggest the following resources to help you maximize your Islander Impact:
---
News

The College of Nursing and Health Sciences' online Master of Nursing (MSN) program has been ranked number 53 out of 203 similar programs by U.S. News & World Report. The 2023 Best Online Master's in Nursing Programs rankings assessed schools based on student engagement, faculty credentials, student excellence, peer assessment, and services and technologies.
The online MSN program was also ranked number 14 in Best Online Master's in Nursing Programs for Veterans. Click here for additional information.
---
A $500,000 National Endowment for the Humanities Challenge Grant was awarded to the Center for Humanities and Mary and Jeff Bell Library Archives for the "Texas A&M University-Corpus Christi Special Collections, Archives, and Center for the Humanities: A Beacon for the Coastal Bend" project. The award is an Infrastructure and Capacity Building Challenge Grant that will fund renovations of a downtown building in Corpus Christi, Texas, to establish the Texas A&M University-Corpus Christi Special Collections, Archives and Center for the Humanities, which will aid in the preservation, research, and accessibility of important primary sources.
---
Researchers in the College of Science have received a grant of $256,000 from the National Science Foundation to study how nanotechnology can change at-home dental care. TAMU-CC faculty and Islander students are investigating a remote-controlled toothpaste and toothbrush combination that can target gums, cavities, and crevices within the teeth using highly magnetic and antibacterial properties. More information about the research and future plans can be found here.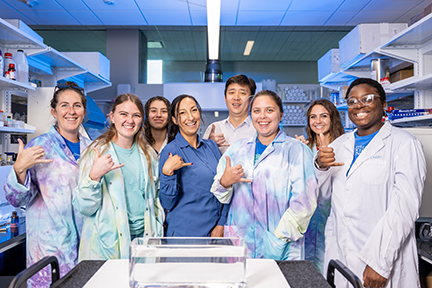 ---
The National Endowment for the Arts has selected TAMU-CC to receive a $50,000 research grant to support the project "Achieving Arts and Cultural Equity in South Texas: A Mixed Methods Study." The researchers are investigating how opportunities and costs that arise from adopting or not adopting strategies that support diversity, equity, inclusion, and accessibility impact the Corpus Christi art scene. The Corpus Christi Arts and Cultural Commission and the City of Corpus Christi Parks and Recreation Department will be important additional partners on the project. Click here for more information.
---
The Office of Student Success, in partnership with Institutional Advancement, received a $10,000 grant from Bank of America and a $5,000 grant from Coastal Bend Community Foundation to the Islander Impact Retention Grant Program. This completion grant program is focused on student achievement, positive academic behaviors, and financial literacy. It is specifically designed to support students who have unmet financial needs and have exhausted all sources of financial aid.
---
TAMU-CC has been selected as one of six institutions to take part in the Gulf Scholars Program, part of the National Academies' Gulf Research Program. The program supports colleges and universities in the Gulf of Mexico region as they prepare undergraduate students across multiple disciplines to respond to regional challenges. Find more information here.
---
The Mary and Jeff Bell Library has received a $30,000 grant from the Tocker Foundation to digitize documents that represent the history of South Texas rural communities. Photographs and other archival documents will be available to the public when the project is complete. The process started in September 2022 and should be completed by August 2024. More information can be found here.
---
Texas A&M University-Corpus Christi has again been selected, through a generous grant from the Greater Texas Foundation, to continue our work with the Council for Adult and Experiential Learning (CAEL) on the Latino Adult Student Success academy program in Texas. We have a strong commitment to Latino adult learners and are excited to continue this work with CAEL and three other selected institutions that include Austin Community College, South Texas College, and the University of Texas Rio Grande Valley.  This two-year initiative launched in September. The work on this project focuses on awarding credit for prior learning to accelerate degree completion for Latino Adults at Texas A&M University-Corpus Christi. For more information, please contact Dr. Jerel Benton, Associate Vice President for Student Success, or Margaret Dechant, Associate Vice President for School and Community Relations.
---
Since Fall 2022, the Mary and Jeff Bell Library's Digital Learning and Academic Innovations department has been evaluating Learning Management Systems. The review of Blackboard Ultra, D2L Brightspace, and Canvas is nearing completion, and the team expects to share results and recommendations mid-March. The team has researched compatibility and compliance with IT regulations and other systems, gathered survey data, and received vendor demonstrations, and they are currently evaluating each product in testing sandboxes. 
---
Texas A&M University-Corpus Christi was one of 24 universities from across the globe to participate in Invent for the Planet (IFTP) 2023, which was held February 10-12. IFTP is global innovation event, where students are challenged to tackle some of the world's biggest challenges. This year, two multidisciplinary teams of Islander students produced innovative solutions for clean water and sanitation and preventing food waste.
---
CONTACT US
Email academicaffairs@tamucc.edu
View the Academic Affairs calendar
Visit the Academic Affairs announcement archive
Submit feedback, events, newsletter ideas, and more using our online form