The Jessie Frances Neal Scholarship
The Neal Ranch was established in 1941 in Upton County, Texas by Jess J. Neal.  Mr. Neal was born in 1883 in Whitney, Texas and spent his boyhood on a stock farm operated by his father, William Rufus Neal.  During his career, Jess Neal raised sheep and bought and sold West Texas ranches and in 1935 married Hazel Copeland of San Angelo.  The Neal's eldest daughter, Jessie Frances Neal, diligently works her interests in the ranch today.
Ms. Neal says she inherited her father's love of the land and that her connection to the land is a way of staying connected to him.  She says, "I have always felt a strong relationship with the ranch.  I believe that the only reason he bought that ranch was to leave it to his children."
Ms. Neal says she began to realize the value of business skills when oil was discovered on the land and she found herself negotiating oil leases with big oil companies.  Her success in managing her oil and gas properties is what positioned her to be able to start the Jessie Frances Neal Foundation which supports scholarships for Texas A&M-Corpus Christi College of Business students. Her belief is that "If you don't have a good business background I don't think you are going to be as successful as if you did."
Ms. Neal says her father would feel as elated as she does each fall when another group of scholarship recipients have been selected. She says, "I think he would say that's a very good idea and I'm glad that you took some of the monies you received from the ranch to help other people."  Framed photographs of Jessie Frances Neal Scholars are prominently displayed in Ms. Neal's office. She says, "I look at them every day and hope the students go a long, long way."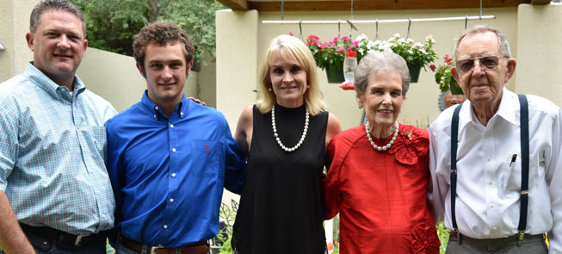 Three Generations
Jessie Frances Neal's Nephew-in-Law Bill Pennell (left), Great Nephew Reese Wm. Pennell, Niece Marla Belle Brusenhan Pennell join Jessie Frances Neal and Husband Clifton W. Coonrod at the Neal's home in Laredo, Texas.
Jessie Frances Neal Scholarship
Texas A&M University-Corpus Christi will provide five new scholarships for incoming College of Business freshmen each Fall.  The $40,000 Jessie Frances Neal Scholarship awards $10,000 annually for four years.  Applications should be submitted to Apply Texas Scholarship Application at ApplyTexas.org by December.